Vanessa Hudgens Strips While Nic Cage and John Cusack Face Off In Trailer For 'Frozen Ground'
Another day, another trailer for a movie Nicolas Cage made over a weekend.
Yesterday
brought us "Stolen," Cage's "Taken"-in-a-taxi-cab movie, and today brings "Frozen Ground," with a rough/early spot leaking to the web, promising Vanessa Hudgens stripping and lots of glowering from Cage and his co-star John Cusack.
Based on real-life events, "Frozen Ground" follows the 1980s investigation of serial killer Robert Hansen, who stalked or killed between 17 and 21 young women. Cage stars as the Alaskan detective Glenn Flothe, who tries to bring down Hansen (Cusack) and finally gets the opportunity after a seventeen-year-old (Hudgens) escapes from the killer and provides key information. Granted, this looks like an early cut of the trailer (and hence, it will probably be ripped down pretty fast), and so music and other elements aren't final (even the production company logo is temporary), but the overall vibe is a picture that seems like your pretty run-of-the-mill, direct-to-video serial killer flick, with opportunity enough for both Cage and Cusack to chew some scenery. Meanwhile, between this and "Spring Breakers," Hudgens is really aching to shed her wholesome Disney image by showing lots of skin.
No release date yet, but Lionsgate is on board to distribute, and we presume "Frozen Ground" will be arriving soon if promo material is starting to come together. Watch below.
Frozen Ground Full Trailer
by EgotasticMedia
* Vanessa sure can dance like a real stripper. There will be nudity. Check out the topless waitress and strippers. Pretty slim expecting one from Vanessa but Gia Mantegna could be a good bet.
________________________________________________
Celebuzz 101 Hot Bodies: 'True Blood' Star Kelly Overton Reveals How to Get Bikini-Ready (PHOTOS and VIDEO)
As True Blood's werewolf Rikki, Kelly Overton is no stranger to shedding layers for some of the show's more intimate scenes.
The 33-year-old actress and longtime athlete –
who ranked No. 50 on the Celebuzz 101 Hot Bodies countdown
— recently sat down with Celebuzz to talk about looking lean and kicking butt, both on and off screen.
What did she reveal?
Among other things, Overton says her secret to getting bikini-ready is to focus on two things: her abs and — wait for it — her butt.
She also revealed what types of songs she has on her fitness playlist.
"I think my all-time classic fitness playlist includes a little Daft Punk, a little Linkin Park — classic rock and some fun '80s songs," she said.
For more on Celebuzz's interview with Overton, check out the video, below.
* Kelly only discovering her natural sexiness in her 30's and after becoming a MILF as well.
________________________________________________
________________________________________________
Banshee

Season 1: Tease (Cinemax)
________________________________________________
I was so nervous having to strip down for Lemon's saucy comedy :
Kelly Brook
KELLY Brook confessed she still gets nervous about appearing scantily clad on camera when she attended the premiere of TV funnyman Keith Lemon's risque new film.
The actress and model, who regularly poses for photo shoots in lingerie and swimwear, wears skimpy underwear, suspenders and a revealing bikini during the comedy.
Dressed in a figure-hugging lace gown for the premiere in London's Leicester Square, Brook said: "It's horrendous, I didn't know I'd be doing that but he got everyone doing all sorts."
Brook plays herself in the movie, in which the moustachioed star finds fortune after inventing the Lemon Phone -- a bog-standard mobile phone with a lemon stuck on it.
"We all just wanted to do a film with him. He's just funny, isn't he, there's no one like him," she said. "He's crazy. He never sticks to the script, he always comes off the script so you never know which way he's going to go."
Lemon -- the alter ego of entertainer Leigh Francis -- managed to secure cameos from names such as Gary Barlow, Ronan Keating, David Hasselhoff and ITV2 Celebrity Juice co-stars Fearne Cotton and Holly Willoughby.
Dressed in a white suit with feather wings for the London premiere, Lemon said: "They got paid nothing. Most of them just wanted to come out and have a bit of fun."
And he said he was not planning to head to Hollywood just yet.
"I'm not bothered about fame. I'll still eat Scotch eggs."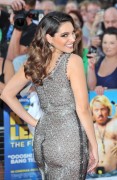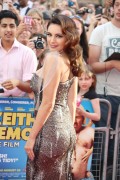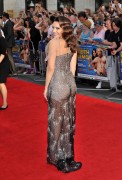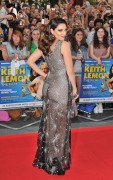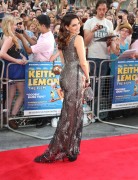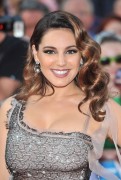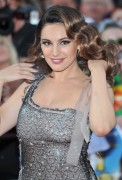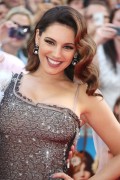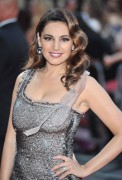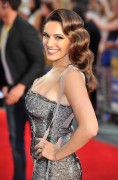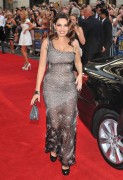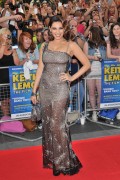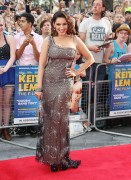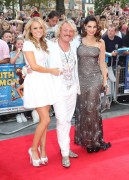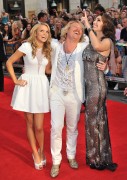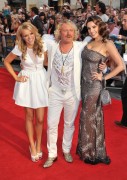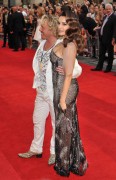 ________________________________________________
Italian News Program Says Venice Lineup Should Be Rated R
An Italian news bulletin on a network owned by disgraced former prime minister Silvio Berluconi has chided the
Venice film festival
for putting on its
raciest lineup
in many years.
TG 24 said the entire event would benefit from an adults-only rating – though its diatribe is thought to be at least partially tongue-in-cheek – due to a programme of "sapphic sex, violence and religion". This year's lineup, which runs from 29 August to 8 September, with Alberto Barbera taking on organising duties for the second time, includes potentially controversial celluloid from
Terrence Malick
,
Paul Thomas Anderson
,
Harmony Korine
, Brian DePalma and Marco Bellocchio.
TG, the main news programme on one of the three channels owned by Silvio Berlusconi, described To The Wonder, Mallick's forthcoming romantic drama starring Ben Affleck, Olga Kurylenko, Rachel McAdams, Rachel Weisz and Javier Bardem, as a film which was unsuitable for young people due to a high degree of sex and nudity
. Korine's
Spring Breakers
, it said, was full of "sexual transgression", while DePalma's
Passion
was described as centring on a dark sexual relationship between a "cynical businesswoman" played by Rachel McAdams and her "sweet assistant" portrayed by Noomi Rapace. Anderson's
The Master
, already under the spotlight because its storyline hints at the history of Scientology, was also highlighted, as was Bellochio's
Bella Addormentata
(Sleeping Beauty), a drama set during the final six days of Eluana Englaro, a young woman who lived for 17 years in a vegetative state. The latter film stars
Isabelle Huppert
, Tony Servillo and Alba Rohrwacher.
All of the above are competing for the festival's top prize, the Golden Lion. Barbera, who took over from Marco Mueller in a
surprise move in December
, said last month that the opening night film would be Mira Nair's
The Reluctant Fundamentalist
. The closing night film was previously confirmed as
L'Homme Qui Rit
by Jean Pierre Ameris.
The festival's new director said in May that this year's 69th edition would be a "more sober" event than previous iterations. It has been slimmed down to fewer than 50 films in total, with just 18 in competition. "We're starting a change in Venice's skin, in which within two or three years we will have a nice rebirth," Barbera told Italian journalists. "The festival is like a grand old lady, a refined lady, but one in need of being freshened up. I believe a festival should take responsibility for its choice, and not to simply select dozens and dozens of titles."
Berlusconi himself has been the subject of a series of salacious stories during the past couple of years, including
suggestions that he took part in "bunga bunga" sex parties
and
paid an under-age girl for sex
. The former politician and media magnate stepped down as prime minister in November 2011 but recently hinted that he would seek re-election for a fourth time in 2013. He is awaiting trial on a number of charges relating to the sex scandals.
* The nudity force is strong with Rachel McAdams in To The Wonder.
________________________________________________
'Boss' Returns Shy of Freshman Premiere Ratings, Still Bests 'Magic City'
With a weekend haul down slightly from its first season average, the initial broadcast of Kelsey Grammer's political thriller pulls just 317,000 total viewers.
The second season of Starz original Boss, which the network ordered before the series ever premiered in 2011, kicked off Friday night with a significant ratings dip in its inaugural broadcast.
Boss' 9 p.m. episode pulled in 317,000 viewers. That's less than half of the 659,000 viewers who watched the series premiere (10 p.m. on Friday) last October.

With encores that night, Boss brought in 509,000 viewers on Friday. That number bests Magic City's recent premiere night showing of 423,000.

Over the course of the weekend, the season premiere of Boss pulled in 915,000 viewers according to fast national numbers -- not far south of last year's 1.1 million average. (Across all platforms, season one of Boss averaged 3 million viewers).

The 2011 premiere weekend of Boss was boosted by early sampling and the potential for 10 million more viewers with a DISH promotional subscription for the network running concurrently.
________________________________________________
Amber Heard
: thumbs up for Terry Richardson photo shoot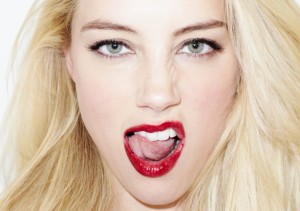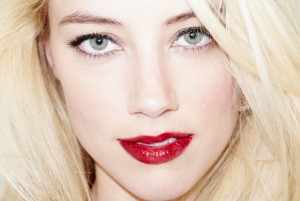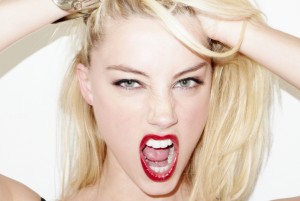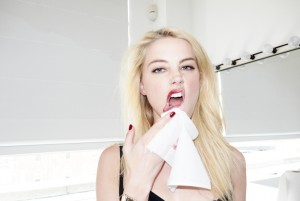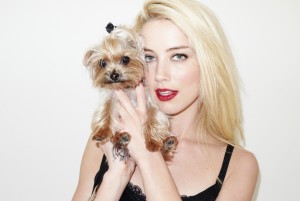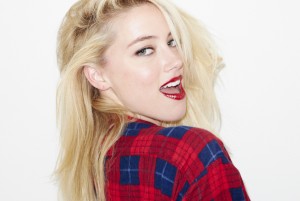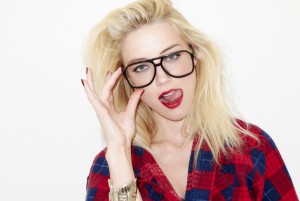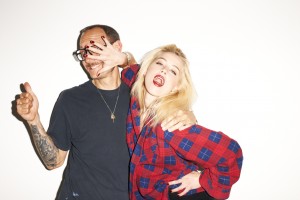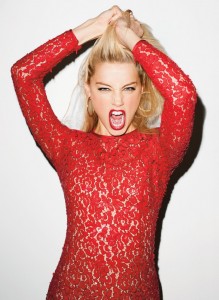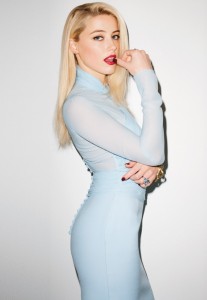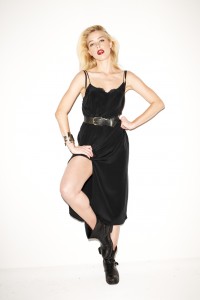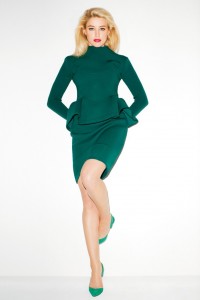 ________________________________________________
Dreama Walker Talks COMPLIANCE, Her Surprise at the Controversy, and DON'T TRUST THE B IN APARTMENT 23
Don't say we didn't warn you: Dreama Walker is about to flip you out. If you're used to her as June, the cute counterpart to Krysten Ritter's conniving Chloe in Don't Trust the B---- in Apt 23, you're going to see a whole different side of her (and a whole lot more of her, period) in the intense indie, Compliance, playing in select cities now. The movie is based on a horrifying real life incident, in which fast food workers sexaully assulted a fellow employee because, get this, a voice on the phone who claimed to be a police officer told them to. The movie is so squirm-inducing and Walker's performance so gut-wrenching that it's virtually impossible to have a neutral opinion after seeing it. At Sundance, it caused an uproar, and the movie's release is sure to spark intense debates about how just far people will go, and how much of their own morality they will compromise, at the request of authority. Walker, who remembered the original incident, says, "It was something that really hit me. Hindsight is 20/20 and I know everyone is thinking, 'Oh, they're so stupid. How could they have let this happen? These people they're sheep.' But you really can't say what you'd do until you're put in a similar situation."
Okaaay, so that's some pretty deep thoughts for the day, especially from a style website. So read on for a little more from Walker about Compliance, but don't worry, we lighten things up too—the star also spilled her fall fashion musts, and revealed her last genius Halloween costume.
This movie is quite a turn from your TV series, Don't Trust the B---- in Apt 23. What made you decide to go for it?
DW: We had a lot of conversations about how this film was going to be done sort of objectively, and also not have s gratuitous amount of nudity. Anytime you do nudity in a film, there's all sorts of legal contractual stuff that you have to talk about and things that you have to make sure you agree on, but I trusted [director] Craig Zobel. It was a really interesting story and it always made me think.
Do you think your character sort of went into a state of shock, where she just gave in to the increasingly extreme demands?
I think that most people when put in a situation like that when they're told that their whole job and their freedom and everything is on the line can understand it. Eventually your emotions and your soul kind of flee your body—you get resigned and check out. That's exactly what I think happened to Becky. She had to get out and be like, "Alright, well my body and brain can't deal with this anymore so I'm no longer here."
Did you know that it was going to be so polarizing when it premiered at Sundance?
I think that's just kind of a testament to the fact that the film works. It's visceral, it's raw, it's difficult to watch. It's difficult to watch humans being so terrible to each other. It's kind of like a Rorschach test and everyone is sort of going to react in a different way and everyone is going to sort of take away something different from the movie and let it be their own conversation starter.
Do you think that the negative outbursts at Sundance were coming from the fact that maybe people couldn't separate the exploitation of your character with the exploitation of you as an actress?
I think that was a large part of why people reacted the way they did. I've learned recently that the two people who were screaming at Sundance actually made an attempt to plug both of their projects while they were screaming so publicly at Sundance. So I think it's kind of just the world that we live in. But yes, I think there was a blur between the exploitation of myself and the exploitation of my character which is really ridiculous because I'm an actress in a movie and just because an event that happened is misogynistic or exploitative, it doesn't mean it's misogynistic towards
me
. You have to separate.
Do you think this project will make people see you in a new way, and perhaps think of you for different roles?
Oh, it's a totally different genre. Yes, I do think that it's hopefully going to be a platform for people to see me in a different light besides someone who can make people laugh, thought to be honest, I love making people laugh and there's nothing wrong with that. But no actress wants to be pigeonholed or type-casted and of course I want the opportunity to show as many different sides to myself as I can. But I love comedy, and I love my job and I'm glad that I get to do that every day too.
Moving on to more frivolous topics, what was your worst job before your acting career took off?
Oh jeeze. I was a busgirl at a big restaurant in New York in Times Square. They thought that I was really strong apparently, which is something no one would think. Actually, I think they were pretty much just trying to be cruel but they were like, 'Okay, you need to carry these large boxes full of glassware.' And I couldn't lift them and I would literally have to pick them up and I'd walk a few feet and then plop them down. And then I'd pick them up and walk to the next table and plop them down. I fell a couple of times and it was just kind of a disaster.
Are there any fashion trends you're really wanting to try for fall?
I'm a big boots person. I just can't think of anyone that doesn't look good in boots. I always get my staples, like a pair of like burgundy-colored boots, a pair of camel-colored boots that I really got these awesome sort of mid-calf length suede yellow boots by Tracy Reese that I'm loving. So yeah, I'm a big boots and bags person. I always make sure I have cool, fun colors and for fall.
Are you more of a high-heeled boot person or a low-heeled boots person?
Well, I say I'm 5'2" but I'm 5'1½ " so I'm always in heels. The great thing about boots is that usually they don't look as intimidating as a pair of platforms so it's not like when I walk into a room people know that I'm wearing ridiculous Kardashian-tall heels. I love to wear boots because they're just connective and they're just cohesive with everything, and you know they always look great.
Since the success of your TV show, do you put more thought into your outfits before you go out
?
You know, I probably should, but I'm still pretty notorious for getting up in the morning, having a really great shower and saying, "Okay, that's cool. I'm just going to throw on yoga pants or something and go out." So I'm still pretty bad about going out with no makeup on and wearing slightly funny clothes. But I look at it like, I can dress myself up and I love to look great, but at the end of the day I'm me, and I like to be comfortable.
Fair enough. Your co-star, Krysten Ritter, is also very fashionable. Do you guys ever shop together?
We haven't. We've been talking about it for ages but we've never actually gone out and gone shopping together. It's kind of funny, the last couple of events that we've gone to together we've worn something similar and people kind of end up grouping us together. We keep gravitating towards the same things and we're going to have to make sure we're better about that.
Anything else you're looking forward to this fall?
Fall is my favorite season. I'm big into Halloween. Last year my boyfriend and I went as "Toddlers and Tiaras" and he was the crazy, deranged pageant mother and I was the toddler. I get really into Halloween costumes. We had so much fun. You know, I love it when the leaves fall, the fall weather. I love the sweaters, jackets and boots. I love the color scheme. So I have a lot to look forward to this fall and hopefully I'll go to a cool Halloween party to show off my cool idea.
You can't give up your idea for a costume yet, I guess?
I can't. I don't know what it's going to be yet.
And how exactly did you pull off dressing like a toddler?
It was awesome. I had a hairpiece in, and I had knee socks and you know those shoes that you get at Payless? I don't know even how they were my size, but they were like the flat, little girl Shirley Temple proper church shoes. So I had those and I had bobby socks and it was also how I carried myself that evening. I smiled that big smile in every picture like 'Oh, they're telling me to smile.' And I'm naturally 5'2" and my boyfriend is 5'11" so there's obviously a height difference there, so I flattened out the boobies and went as a toddler and it was awesome.
________________________________________________
'
Fifty Shades of Grey

' Movie Casting News: Producers Reveal Film Will Be

Rated-R

; Will Focus on 'A Young Love Story'

More news about the upcoming "Fifty Shades of Grey" movie is slowly, but surely, being revealed.
Fans are starving for more information.
"Fifty Shades" producers Dana Brunetti and Michael De Luca recently did an interview with CNBC's Squawk Box about the hotly anticipated movie.
The "Fifty Shades of Grey," written by bestselling author E.L. James, tells the story of 22-year-old recent college grad
Anastasia Steele
, who enters into a dominant/submissive sexual relationship with 27-year old sexy billionaire Christian Grey, and both explore Christian's world of BDSM (bondage, dominance, submission, masochism) while trying to understand their complicated relationship.
In the interview, co-host Andrew Ross Sorkin asked the team if the erotic book would need to be R-rated, according to
FiftyShadesFilm
.
"That's correct. The challenge is similar to adapting from any medium. We're going to treat this like adapting from Ben's [Mezrich] books or any books or adapting from a play or comic book or magazine article," De Luca said. "Anything that's not film, you get into a process of adaptation, and we're just going to kind of bring the same criteria to the adaptation of this. Obviously with this, when you're dealing with something that's found such incredible mainstream success, you want to preserve everything that's wonderful about it. The success of this has certainly been breathtaking, and we're going to honor that in our quest for the perfect adaptation."
When asked about if the plot is good enough to where porn doesn't need to be included for people to come watch it, De luca said, "You should definitely read the book.
"It's a beautiful, earnest love story. It's a 'first love' love story. A young love story. And that's the kind of engine that drives the whole enterprise. It's really about the arc of a relationship, and that I think will be easy to preserve and must be preserved in any compelling film adaptation."
Recently on
Twitter
, Brunetti let his fans know, "Cast of a film is usually decided on with a directors input..." This most likely means that everything "Fifty Shades" fans are saying are just rumors and that the crew has not picked a director, or a
screenwriter
for that matter.
One can only fantasize.
Recently, James took to Twitter to address all the casting rumors on who will play the lead parts of Christian and Anastasia.
"I am not making any comments on casting the movie. No one is ruled out or in yet - far too early," she tweeted.
In recent news, it was said that "The Descendants" star
Shailene Woodley
, 20, has "caught the eye" of James, and might be up for the role of Ana.
Ian Somerhalder Confirms Meeting With 'Fifty Shades Of Grey' Movie Makers!
For months now fans have been speculating about who should play Christian Grey, with everyone from Shia LaBeouf to Brad Pitt generating gossip around the 'Fifty Shades Of Grey' role.

Now at last it seems we have some concrete news, and it's sure to please Entertainmentwise readers.

That's because Ian Somerhalder, who won our readers' poll to decide your favourite for the part, told fans at a "Vampire Diaries" convention yesterday (August 19) that he is going to meet with the "Fifty Shades of Grey" film team!

According to Examiner.com he did not give any details about who he would be meeting with but did say he would be leaving for Los Angeles next week.

Fans in the convention hall then reportedly began clapping and cheering.

The website quotes Kimberly Perek, who attended the convention, as saying that Ian was asked by another fan if he was interested in playing Christian Grey.

Adding that "fans were thrilled," and that "we have been wanting information like this for so long so everyone flipped".

The news is the first concrete casting information about the much anticipated movie, which will be produced by Dana Brunetti and Mike DeLuca. Four screen-writers are believed to be in line for the writing job, with 'Cars 2's' Dan Fogelman the most prominent.

Meanwhile, LoveFilm has revealed that British cineastes are developing an increased appetite for "saucy" fare in the wake of the Fifty Shades of Grey publishing phenomenon. The DVD rental and film streaming service says viewing figures for salacious movies have leapt by 55% since the explosion in popularity of EL James's erotic knee-trembler, which last month became the country's bestselling book of all time with 5.3m copies sold.

The news bodes well for the novel's forthcoming big screen adaptation, which is being put together by the producers of The Social Network, Michael De Luca and Dana Brunetti. Studio Universal plans a trilogy based on the novel and its two sequels.
________________________________________________
Watchdog group says implied nudity on TV increased at alarming rate
NEW YORK - Implied nudity has increased over 400 percent since the 2010 to 2011 season, a watchdog group claims.
The Parents Television Council said Monday that its researchers found 76 instances where a person appeared nude, with private parts obscured, in prime time last season. It happened on 37 different shows. The group says that's a sharp rise from the 15 instances the networks aired the season before that.
"The networks have made it abundantly clear they have no intention of respecting either the broadcast licenses they've been granted or the public in whose interest they are licensed to serve," the group said in a
press release
. Therefore the American people, whose values are being assaulted on a nightly basis, must insist that the Federal Communications Commission vigorously enforce broadcast decency laws, as mandated by the Congress and affirmed by the Supreme Court."
Seventy percent of the full nudity depicted scenes were on shows that aired before 9 p.m. and as early as 7 p.m. Only 76 percent of the shows had an "S" description on their rating, which is intended to warn parent about the content of the program.
The group looked at shows that appeared on air from September 1 to May 31 during the 2011 to 2012 primetime broadcast television season. Specials were included, but traditional news and sports were excluded.
Examples include a couple skinny-dipping on ABC's "The Bachelor," Howie Mandel jokingly appearing nude in his dressing room at NBC's "America's Got Talent" and a naked man jumping out of a car trunk in the candid camera show "Betty White's Off Their Rockers" on NBC.
In each case, the full nudity is obscured by pixilation or strategically placed objects. The use of pixilation went from two cases in 2010 to 2011 to 56 cases in 2011 to 2012, an increase of 2700 percent.
"It's a lot more suggestive than we've seen in the past," said Melissa Henson, spokeswoman for the group.
The parents group, which also monitors language and sexually suggestive content on broadcast television, said it will complain about the development to the Federal Communications Commission.
________________________________________________
Sarah Shahi
: Nino Muñoz photoshoot [2011]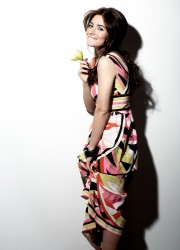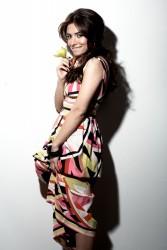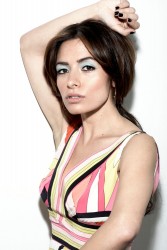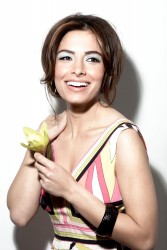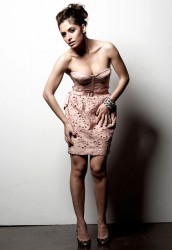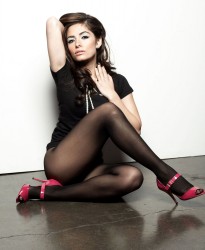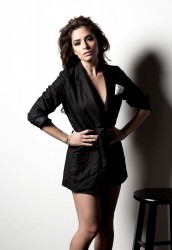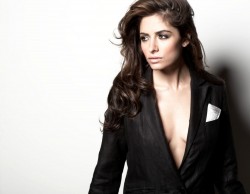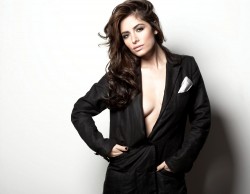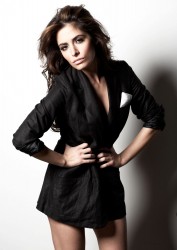 ________________________________________________
PORKCHOP 3D

RED BAND TRAILER
When a group of Porkchop's would-be victims return for revenge, they never suspect the pig-masked killer is not alone! After all, the family that squeals together kills together! Starring
cute and topless Kaylee Williams
(Slices of Life), Sam Qualiana (Snow Shark), Danny Hicks (Evil Dead 2), and Brian Gunnoe (Zombie Babies),
Porkchop 3D
was filmed entirely....well....in 3D on a budget of $3000. The entirety of the movie was shot in Charleston, West Virginia and surrounding areas. Cinematography by Andrea Anderson. Produced by Melissa Myers and Harper Gardner. Written and Directed by Eamon Hardiman.
________________________________________________
Watch the video here
Organisers of Miss World NZ will formally complain to the competition's international body after the Kiwi contestant was pushed by Miss Malawi as they stood on stage.
Collette Lochore, 18, of Auckland was taking part in the international pageant in the Inner Mongolian city of Ordos in China at the weekend.
However, during the competition, cameras caught Miss Malawi, Susan Mtegha, jostling with Miss New Zealand on stage.
Words were exchanged between the two, then Miss Malawi elbowed the Kiwi out of shot and stood smiling, with her hands behind her back.
Miss NZ could just be seen standing to the side, also continuing to smile.
Speaking from Shanghai yesterday, the director of Miss World NZ, Desmond Foulger, said he was shocked and upset for Miss NZ and would complain this week.
"What actually happened was that Collette was on her correct spot on stage, but Miss Malawi didn't realise that. Instead of asking her to move over, she just shoved her, elbowed her, and everybody in the audience was aghast.
"Our girl was fine, she was correct, but Miss Malawi was bad-mannered. I'm going to complain to the Miss World organisation when I get back.
"She was pushed hard, so she nearly fell over. It was a very rude and very unprofessional thing to do."
The video, which quickly went viral, had Twitter fans chatting eagerly about the incident, with one calling it "The Pageant Push."
Ms Lochore teaches drama to young people aged 3 to 18 and was this year inducted as the youngest member of the New Lynn Rotary Club.
Ms Mtegha is a fashion designer and dancer.
Mr Foulger said that after the incident, Ms Lochore did not approach or say anything to Ms Mtegha.
He praised Miss NZ for maintaining her composure and continuing to act appropriately.
"She's very professional, she just carried on. In fact, she didn't want us to make a complaint - she was really very good."
Miss China, Yu Wenxia, was crowned the winner.
________________________________________________
Miss Teen USA 2012

Logan West

first photo shoot
________________________________________________
As Big Media Gets Bigger, What's Left To Buy?
Comcast could be looking for more. BTIG Research's Richard Greenfield thinks the recent floating of Liberty Media's pay TV network group, Starz, as a separate publicly traded company, would be an
obvious choice.
Comcast could funnel some of its Universal Pictures into the pay TV window arena.
CBS? Perhaps it could use a few more few more cable channels -- especially widely distributed basic ones. Maybe even Starz. For years, analysts have speculated that broadly distributed Hallmark Channel (and growing Hallmark Movie Channel) would be a perfect fit, given CBS' older-skewing viewers and its history with the Hallmark Hall of Fame movies. (That franchise has now moved to ABC.)
NBC already got bigger through its association with Comcast; it is now able to cross- market with more cable channels (E!, Style, NBC Sports Network and Golf Channel) as well as with local cable systems.
Fox has broad assets, including TV stations and cable channels. Maybe it wants a pay TV group like Starz? Maybe Disney-ABC wants Starz as well?
Sony Pictures Entertainment? For years it has been the odd-man out -- no TV stations, no broadcast network, no big U.S cable presence (though it does have some international networks). It would seem to some that Sony could or should get bigger. Then again, new smart TVs -- made by Sony -- could be an in toward a new TV business model.
Trouble is that few independently owned traditional media properties are available. So then one turns to the Internet. But which part of this vast arena? Fox, for one, had MySpace, the erstwhile former king of social media.
Big media, for the most part, is sitting on the sidelines -- because much can change in the Internet world. Today's Netflix may be tomorrow's Joost. All big media companies have had some connections with Google, Facebook and Twitter -- some good, some bad, some indifferent. Buying in now may not be the right way to go, especially if those platforms are only marketing and distribution tools for their content.
To many media critics, bigger media isn't good for anyone. It limits opinions, information, and access to content. But don't worry too much. There is too much hesitation afoot.
Many media companies -- and all U.S. companies -- like the idea of having a lot of cash on hand. Few want to be over-leveraged in this economy. Recently, Disney and Hearst agreed to out NBC's 16% share in A-and-E Networks for just over $3 billion. But that was a planned move, somewhat years in the making.
Will Google buy some big media company some day? Will Microsoft?
Big media will get bigger -- but not always in the ways we expect.
________________________________________________

Stand Down: Tumblr Denies Putting the Kibosh Specifically on NSFW Blogs
Tumblr has long been a not-so-secret hub for sexy photos. But as the company stumbles to maturity–lo, something that looks like a real monetization plan!–could it be that the steady stream of T-and-A is not long for this world? TechCrunch reports that three sites in particular–"
Art Or Porn?
," "
Booty Of The Day
" and "
TeamPervert.com
"– have suddenly and mysteriously gone dark.
Could we have a case of foul play on our hands? Tumblr says nope–just a case of overzealous anti-spam efforts.
The publisher of Team Pervert t
old TechCrunch
:
"When my site was deleted from Tumblr, I received an automated two-sentence email saying my account was deactivated for 'spam or affiliate marketing', which was false. I ran standard ads units on the blog, I had no pop-ups, no predatory ads, no viruses, no creepy affiliate programs. The ads on my blog were no different than the ads on thousands of other Tumblr-hosted blogs today."
Booty of the Day admitted to dabbling in affiliate marketing, but insisted it wasn't the main purpose of the site. Art or Porn didn't respond to TechCrunch's request for comment.
However, it might be a little premature to rush to the ramparts to defend Tumblr smut. For one thing, at the risk of outing ourselves as connoisseurs, three explicit Tumblr blogs is a mere drop in the bucket. We also paged back through Betabeat's roundup of sexy Tumblrs, and
only one
had disappeared. That sounds about like the natural rate of blog die-off, to us.
We reached out to Tumblr spokesperson Katherine Barna, who told us via email:
There have been no recent changes to our content policies.
However, we have looked into the accounts in question and discovered that they belong to small handful of blogs that had been recently flagged as "spam" by an overzealous heuristic. We are currently reviewing and will be reactivating any of these accounts that were improperly flagged.
In other words: Tag your adult content as NSFW and don't upload any explicit videos, and Tumblr is
cool with it
, which seems to contradict the notion the platform should brace for a purge. (Also, if you've every done a tag search for "porn," you'll understand why the site might be taking an aggressive stance in the war on spam. All we can say is
yikes
.)
However, watch this space over the next 18 months. The arrival of advertisers does tend to change the dynamic re: raunch.
________________________________________________
by Brentney Hamilton
The Black Mariah (and mustache) and Angi B. Lovely
You'd the think title says it all. In fact, its straightforward logic is what got me through the door: "I like this and I like that." But admittedly, I expected something more reserved and perhaps even boring from Friday night's Naked Girls Reading. While the premise might sound like a perfect night in, I was less convinced that two hours of it at
Quixotic World
would be an altogether entertaining Friday evening. I should have given those gals more credit.
Anyone who has been to even the most rudimentary burlesque show knows that the art is not about "nudity" so much as "getting there" in a lighthearted and mutually pleasurable manner.
Caitlin Moran
distinguishes between capitalistic, dead-behind-the-eyes stripping and the effervescent transcendence of burlesque by writing that "burlesque clubs feel like a place for girls ... watching good burlesque in action, you can see female sexuality; a performance constructed with the values system of a woman: beautiful lighting, glossy hair, absurd accessories (giant cocktail glasses; huge feather fans), velvet corsets, fashionable shoes, Ava Gardner eyeliner, pale skin, classy manicures, humor, and a huge round of applause at the end -- instead of an uncomfortable, half-hidden erection and silence."
I was no burlesque virgin, so why did I expect Naked Girls Reading to consist of a dour set, involving no humor, creativity or interaction with the crowd? Well, probably because the Dallas set was wildly different than
what I'd read
about other cities' incarnations.
Courtney Crave's rendition of Snow White -- in the original German -- had the most unusual effect on certain members of the packed audience...
In reality, Friday's show was innovative, hilarious and intellectual -- things not typically associated with "nakedness" or "girls." And those qualities are what made it not just an evening of Betty Boop caricaturing, but instead -- if I may be so dramatic -- revolutionary. Any woman who has been so fortunate as to have a man ask her thoughts on Platonic Dualism mid-coitus will appreciate the crash-of-lightning premise upon which Naked Girls Reading is built. Any man who notices the blood rushing from his head at the wistful thought of his high school English teacher will understand as well.
Among the talent onstage Friday evening -- and by talent, I truly mean it -- there was a published author who regaled the crowd with a just-penned, original short story,
The Dirty Blonde
; a Neil Gaiman loving redhead with the articulation of a college professor and the reading voice of an angel,
Angi B. Lovely
; a bilingual German fetishist with the dry impromptu wit reminiscent of a buxom Mark Twain,
Courtney Crave
; a thickly-brogued sexpot with a wicked sense of bawdy Scottish humor, Bonnie Lou; and the show's producer, a Dallas burlesque institution, with a larger than life personality who -- despite its grating popular use -- understands the actual definition of "pun,"
The Black Mariah
.
With a fairy tales theme, the reading list consisted of poetry by Lewis Carroll and the aforementioned Neil Gaiman; selections from
Gregory Maguire
; twisted tales of vampirism, cannibalism and tentacle sex (read in funny voices with homemade mustaches) from the original German, Scottish and Japanese texts; feminist psychoanalysis of Disney's white-washed princesses, with specific attention to double entendre; and a raunchy retelling of Goldilocks penned by the Dirty Blonde and set in Dallas, replete with Uptown bitchiness and Gayborhood glitz.
So why naked? And doesn't that detract from the women's intellect?
You don't go see Eddie Izzard because of the way he's dressed; you see him because he's hysterical. The leather pants and stilettos are just part of his "drag" -- literally, in Izzard's case, if more figuratively in the realm of burlesque. Drag, as an outward manifestation of something beautiful, absurd, funny, or broken on the inside; something human rather than object. My own thick black eyeliner, short dress shorts and bright emerald wedges were perhaps more subtle than the Dirty Blonde's pitch-perfect Marilyn coif and shimmering rhinestone chandelier necklace, but they were a performative costume no less.
Burlesque is the embodiment of daring femininity. It subverts restrictive traditionalism on one's own terms and for one's own gratification. These ladies are not naked purely for the approval of a male audience; though that might be a welcome side-effect. They are naked because they have the right to be. And because it's fun.
Admit it -- you're naked right now. I know I am.
Miss Friday night's erudite erotica? The Black Mariah tells us another NGR is in the works for October. Stay in the loop with the Dallas chapter on
Facebook
.
________________________________________________
There have been fleeting evidences of this dark practice in B-town. But what you see here might shock you
In the recent past we've woken up to Payal Rohatgi accusing Dibakar Banerjee of making an indecent proposal while casting her for Shanghai. Then there was news about a starlet called Preeti Jain being raped by Madhur Bhandarkar. While none of these stories could be confirmed, it's no hidden truth that the casting couch is part and parcel of life in Bollywood.
And, guess what: B-town's history of indecent proposals dates back to – hold your breath – 1951!
Photographs of Hindi movie director A R Kardar of Kardar Productions taking screen test of new girls for his movie in 1951. A R Kardar (Abdul Rashid Kardar) was director of famous movies like Shahjehan (1946), Dillagi (1949), Dulari (1949), Dil Diya Dard Liya (1966) etc.
IMDB link
These photographs were taken by James Burke for Life Magazine. The Life archive hosted by Google wrongly documented the date of these photographs as 1941, but probably these photos were taken in 1951.
Sigh. And a look at them surely makes you wonder what criteria the girls are supposed to satisfy to pass the screen test!
________________________________________________
Two Friends Gang-Rape Teenager, Take Victim's Nude Photo with Phone
A 17-year old girl (name withheld) has narrated before an Ejigbo magistrate's court in Lagos, how two friends, Ekene Uzor, 24, and Eni Daniel, 21, allegedly gang-raped her after they had forced her to suck their penises. They also took her nude photo with their camera phones.
The teenager was giving evidence before the court in a two-count charge of forcing her to suck the defendants' penises and gang-raping her. Click to continue reading…
At Thursday's resumed hearing before the trial magistrate, Mrs. M.B. Folami, the girl said she knew Daniel Uzor, who is in the entertainment industry, at her mother's shop in Surulere, Lagos, southwest Nigeria.
The victim stated that Uzor promised to groom her to become a star in the entertainment industry and under this guise, he invited her to his residence at 10, Joe Ejeye, Jakande Estate, Ejigbo.
She said on the day of the incident, she went to Uzor's flat where his friend, Eni Daniel was already waiting, adding that immediately she entered, Uzor locked the door to the flat.
"They came to me and started fondling my breasts and other parts of my body. They ordered me to remove my dress. They started taking my nude photographs and threatened to post them on the internet.
"They forced me to suck their penises. They had rounds of sex with me in turns. When they were satisfied, they told me to go. But they did not delete my nude photographs in their camera phones," the girl narrated her ordeal.
She disclosed that she did not inform anyone of her experience because of fear that her nude photographs might be posted on the internet.
But after some days, she summoned the courage and narrated the incident to her grandfather who took her to the police station to report the matter.
She said when the police arrested Uzor and Eni, her nude photographs were still in their mobile phones. The photographs were later downloaded and printed in hard copies. The court admitted them as exhibits.
The police prosecutor, Mr. Oladejo Balogun, charged Uzor and Eni before the court with the offences punishable under sections 409 and 259 of the criminal code laws of Lagos state of Nigeria, 2011.
At the commencement of the case, they pleaded not guilty when the charge was read to them.
The trial magistrate, Mrs. Folami admitted them to bail in the sum of N500,000 each with two sureties each in like sum.
Uzor and Eni were remanded in prison custody pending when they will perfect their bail condition.
The court has adjourned the matter till 31 August, 2012 for continuation of the trial.